Hypnotherapy School History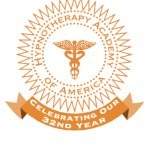 January 2021     Now in our 33rd year of continuous service providing hypnotherapy certification training.  Now people have traveled from all 50 states and 35 countries to attend our course.
| | |
| --- | --- |
| July 2013     Academy Director and Instructor, Angela Simmerman Sierra, completes her Neuro-Linguistic Programming (NLP) Teacher Training with NLP pioneer, Robert Dilts. | |
| April 2013     The NIH is using our Lead Instructor, Tim Simmerman Sierra's methods for its scientific research of mind-body medicine. The National Institutes of Health (NIH) is a branch of the United States Health and Human Services Department. In conjunction with the National Center for Complementary and Alternative Medicine began a three year, three million dollar study utilizing the Academy methods. The study is being hosted by University of New Mexico Hospital in Albuquerque. NCCAM | |
| March 2013     Co-Director and Lead Instructor, Tim Simmerman Sierra, completes his University Hospital Human Research Protections Training. He also updated the Stanford University Hypnotic Susceptibility Scale Protocol and the Harvard Group Scale of Hypnotic Susceptibility at the request of the National Institutes of Health. | |
| December 2012     Hypnotherapy Academy moves from Santa Fe to Albuquerque, NM to its new facility, designed with huge classroom, large picture windows for lots of light and numerous practice rooms for hands-on skill development. | |
| 2008     Angela Simmerman Sierra becomes Co-Director and joins the Academy teaching team. Angela is the living proof of the power of hypnotherapy. After being blinded in a car accident in the late 1990's her neurosurgeon exclusively used hypnosis and imagery to help her regain her eyesight. Tim and Angela were married in 2008 and enjoyed honeymooning in Cabo San Lucas, Mexico. | |
| May 2008     Founder of the American Council of Hypnotist Examiners, Gil Boyne, recognizes our Lead Instructor, Tim Simmerman Sierra, with an award in educational excellence. | |
| January 2005     Robert Sapien, MD joins the Academy as an Associate Instructor and Practical Skills Coach. Robert is a graduate of the Hypnotherapy Academy of America program, a tenured medical professor at University of New Mexico Hospital, Chief of Pediatric Emergency Medicine, Medical Researcher and Associate Dean of Admissions at UNM School of Medicine. Doctor Sapien's work in the research of hypnotherapy was instrumental in the National Institutes of Health study utilizing our methods. | |
| May 2003     Tim Simmerman Sierra, Lead Instructor and Director of our hypnotherapy training certification program, is made President of the American Council of Hypnotist Examiners. Tim went on to serve two terms as President from May 2003 to May 2005 and May 2007 to January 2010. | |
| August 1995     After running a full-time private practice Tim completes Teacher Training at Southwest College of Hypnosis and becomes its new owner and operator. Tim moves the school from Albuquerque to Santa Fe. Tim has EXCLUSIVELY held the position of lead instructor since 1995. | |
| February 1992     Continuing his search for a more complete education in hypnotherapy, Tim completed hypnotherapy training with world renowned hypnotherapist Gil Boyne at his Hypnotism Training Institute in Glendale, CA in 1992. Immediately after that, Tim went into full time private practice, no longer working as a paramedic. | |
| 1989     Tim Simmerman Sierra, began taking professional hypnosis training classes in 1989. At which time he began his part-time practice. | |
| November 1988     Founded by Marlene Goebel, Southwest College of Hypnosis earns State recognition as a hypnotherapy vocational school. Later, in the 1990's after Tim Simmerman Sierra became owner and operator he renamed the school Hypnotherapy Academy of America. | |
| 1987     Our school was founded by Marlene Goebel, one of Albuqerque's most notable hypnotherapists, a graduate of Stillman College of Hypnosis (Santa Clara, CA) and was certified by the American Council of Hypnotist Examiners. While Marlene practiced hypnotherapy she also had extensive training in Neuro-Linguistic Programming (NLP). In 1987 she founded our school under the name Southwest College of Hypnosis, and in 1988 the school was recognized by the state of New Mexico. | |
Educational Institutions are responsible for properly preparing the student for practice with comprehensive curriculum content, effective methods of instruction, cultivating skills competency, maintaining proper coach to student ratios, sufficient hours of instruction, and so on. 
Tim received training in regression hypnosis in 1989 with Dick Sutphen General hypnotherapy training was in 1992 with Gil Boyne. Gil Boyne was the Academy's Director of Post Graduate Studies from 2003 to 2008. In 1995, Tim took Marlene and Bill's course for "hypnotherapy teacher training." Later that year he was asked by the Goebels to take over the school. In 1996 the State of New Mexico changed its rules to require schools that use the word "college" to provide a minimum of a 2-year degree program. Tim changed the name of the school to Academy of Alternative Therapies, and then two years later to Hypnotherapy Academy of America. 
Since 1988, our Hypnotherapy School has been in continuous service to the local community and the world teaching hypnotherapy classes. 
In 1989 the U.S. Dept. of Education places hypnotherapy in the "Health Sciences and Humans Services" division of the Classification of Instructional Programs (CIP). Hypnotherapy Education's CIP identification number is 51.3603. Its US Dept. of Labor, Dictionary of Occupational Titles (DOT) identification number is 079.157.010.
Medical schools award a degree in medicine, but graduates need licensure before treating patients.
Universities award a degree in counseling, but the graduate needs licensure before conducting therapy with patients.
The Hypnotherapy schools awards a diploma, but the graduate needs certification before conducting sessions with clients for a fee.
We recommend certification with the International Board of Hypnotherapy because it has the most rigorous standards for certification in clinical hypnotherapy.