NIH-Funded Research Utilized Our Integral Hypnotherapy Methodology and Discovered New Hope For 33 Million Americans
October 2018 News update:  The latest scientific research is proving that hypnotherapy mobilizes the healing power of the mind to produce evidence-based results. This study addressed a chronic condition that 33 million Americans, one-tenth of the population, suffer from—Overactive Bladder/Urinary Urgency Incontinence. We anticipate that the success of the following research will likely result in thousands of referrals from medical practitioners to hypnotherapists who are qualified to conduct this protocol.
A 4-year, 3 million dollar study funded by the National Institutes of Health (NIH) and conducted at the University of New Mexico Hospital utilizing our techniques is now complete. It was a great success for hypnotherapy! This study's purpose was to determine if hypnotherapy is, or is not, inferior to the current standard medical treatment of Overactive Bladder (OAB)/Urinary Urgency Incontinence (UUI). Part of what makes this so significant is the scientific rigor of this research study. For example, it involved 152 patients—a significant sample of the population. Also unique to this study is that it tested our Integral Hypnotherapy methodology—a varying multi-session system where sessions are tailored to the individual needs of each patient—against the current standard medical treatment. This clinical trial randomized 74 patients into the hypnotherapy group and 78 into the standard medical treatment group.
We are receiving reports from the physician investigators, which show that the patients receiving hypnotherapy for overactive bladder and urinary incontinence had equivalent results to the current standard medical treatment overall. In those patients who were moderately to highly responsive to hypnosis, the one-year follow-up showed superior results to the standard medical treatment. This indicates that overall, hypnotherapy is not inferior to the current standard medical treatment of OAB/UUI, and in many cases is superior. While hypnotherapy may not be appropriate for everyone, this scientifically rigorous study is breaking new ground in the mainstream acceptance of hypnotherapy as an adjunctive modality. The peer-reviewed research was presented in abstract form at the American Urogynecologic Society (AUGS) conference, held in Chicago on October 11, 2018.
Four Elements that Make this Scientific Research Groundbreaking
This study

did

test hypnotherapy against the current standard of care. In past decades, the majority of research studying the therapeutic application of hypnosis or hypnotherapy did not test hypnotherapy against the current standard treatment of a medical condition.
This study, due to the three million dollars in

funding

, included a large enough sample to reflect the population of people affected by this condition. The Integral Hypnotherapy methodology was found to be equivalent to, and in many patient cases, superior to the current standard medical treatment.


This was a positive study finding. The hypothesis was to test that hypnotherapy is not inferior to the current standard medical treatment of OAB/UUI. Our study was positive, which means successful because it showed that overall, patients in the hypnotherapy group had the same results as patients in the drug therapy group. Additionally, those who were moderately to highly responsive to hypnosis had superior results to the standard medical treatment group.

Rigorous research like this randomized clinical trial presents medical providers with another safe and effective evidence-based treatment option for OAB/UUI.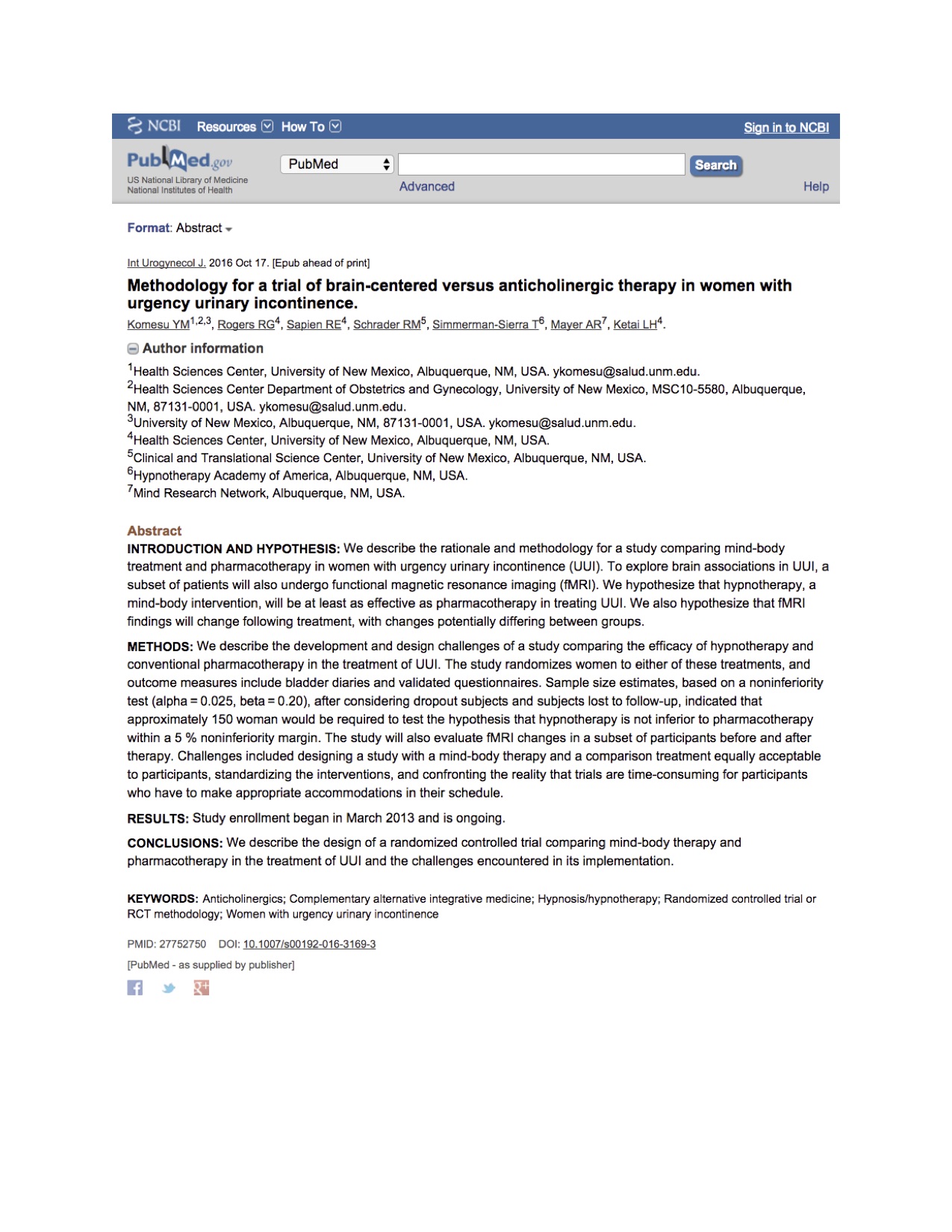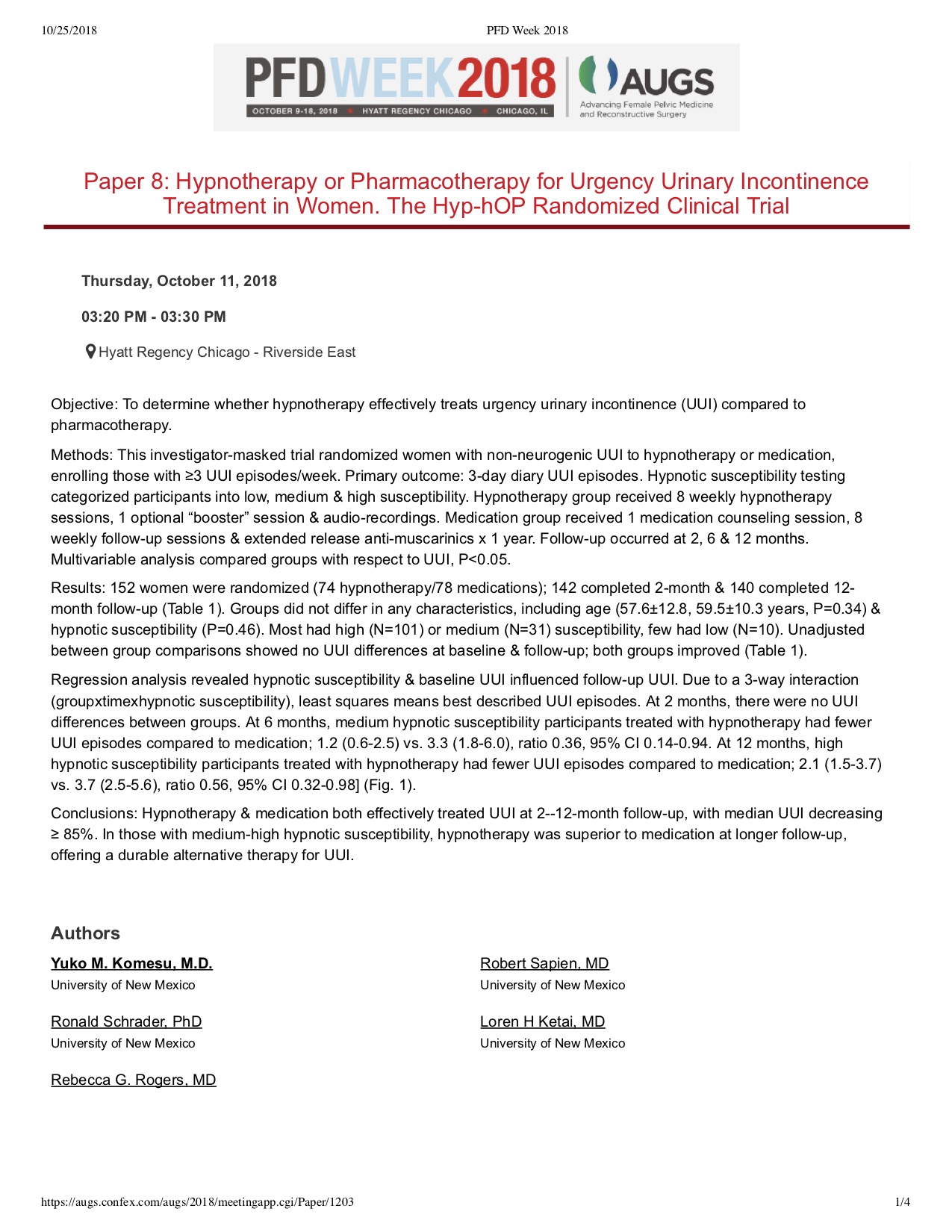 Link:
https://www.ncbi.nlm.nih.gov/pmc/articles/PMC6995419/
Below is a post from 2013 when we began this journey.
Historic Milestone
This is a historic time for the Hypnotherapy Academy. In August of 2013, we received word that the National Institutes of Health (NIH) in conjunction with the National Center for Complementary and Integrative Health (NCCIH) is funding a three-year study of the Hypnotherapy Academy methodology.
The NIH, which is one of the world's foremost medical research centers, is part of the US Department of Health and Human Services and is our nation's medical research agency.
Hypnotherapy Academy associate instructor, Robert Sapien, MD, said, "We who've received our training at the Hypnotherapy Academy, have all witnessed the high rate of success of our clients. As a medical researcher, this inspired me to enlist the help of Tim (Tim Simmerman Sierra, Academy Director,) to co-design the upcoming scientific study. This is an unprecedented opportunity to put forth a robust scientific study that quantitates our clients' success. It is also important to mention that less than 10 percent of applications to the NIH-NCCIH are successful in getting funded. I am honored to be representing you (the Academy Alumni,) in spearheading this effort."
On behalf of all Academy graduates, we appreciate the importance of Dr. Sapien's research, and how this directly adds to the prestige of Academy alumni. (Many Thanks to Dr. Sapien!)
The approval for this study is also an acknowledgment of twenty years' hard work and devotion on the part of Academy lead instructor, Tim Simmerman Sierra, former two-term president of the American Council of Hypnotist Examiners, co-director of International Board of Hypnotherapy, and author of Medical Hypnotherapy, volume 1. During this time he has evolved the techniques, improved the quality of care and raised the industry requirements for certification in hypnotherapy. As a former nationally registered paramedic, he teaches from a unique perspective, bridging the healing power of hypnotherapy with conventional medicine.
This NIH-funded hypnosis study and others like it, continue to verify the effectiveness of hypnotherapy as an important adjunct to conventional medicine.
Below you will find information about the clinical trial that paved the way for the NIH funding.
Study Shows "Superior" Effectiveness with Academy Methods: Research on Hypnosis
Overactive Bladder Syndrome
"Hypnotherapy for Treatment of Overactive Bladder: Randomized Controlled Trial Pilot Study"
Female Pelvic Medicine and Reconstructive Surgery, 2011Nov;17(6):308-13. Komesu, YM, Sapien, RE, Rogers, RG, Ketai, LH
A recent study at the University of New Mexico Hospital in Albuquerque shows the effectiveness of the Academy's hypnotherapy methods in comparison to behavioral therapy alone. The population studied was women who suffer from overactive bladder (OAB) syndrome. OAB syndrome, affecting 17% of all women in the United States, is experienced as urinary urgency, increased frequency, nocturia (need to urinate often at night), and sometimes with incontinence. Along with the physical symptoms, women with OAB also experience stress, embarrassment, and decreased self-esteem.
Academy associate hypnotherapy instructor, medical researcher and Chief of Pediatric Emergency Medicine, Dr. Robert Sapien, designed the study using the methodology developed by Tim Simmerman Sierra, co-director of the Hypnotherapy Academy. Sapien said the objective of the study "was to gather data to compare hypnotherapy to an already proven standard treatment, in this case, behavioral therapy."
Conclusion: Both groups showed improvement with treatment; however, the hypnotherapy group showed significantly higher scores in the effective relief of symptoms and improvement in quality of life, than the behavior therapy group.
The hypnotherapy group had an overall improvement of 67% (in only three sessions), while the behavioral therapy group only 42% improvement.
The research team (Yuko M. Komesu, MD; Robert E. Sapien, MD; Rebecca G. Rogers, MD; and Loren H. Ketai, MD) concluded: "This pilot study is notable in that the hypnotherapy group had superior global improvement in their OAB symptoms compared with behavioral therapy alone."
Dr. Sapien added as a side note, that the group of women in the study who did not receive hypnotherapy (the control group) indicated that they were disappointed that they did not receive hypnotherapy. After the study was completed, they were given the option of returning to have the hypnotherapy protocol. All of the women chose to return for the added benefit of hypnotherapy.
With studies like this paving the way, training at the Hypnotherapy Academy of America could not be more timely.